Thomas Kinkade "Snow-Bell Holidays" Ornament Set
Thomas Kinkade Snow-Bell Ornaments: Set Of Three
Three 3D snowman jingle bell ornaments showcasing Thomas Kinkade's famed holiday artwork. Handcrafted limited edition with vintage holiday outfits.
Measure approximately 3-1/2" H
Price:

$39.99 US
s&s

$7.99 US
Buy the Collection
This item is part of a collection. Subscribe to receive each issue in the collection by clicking "Add Collection to Cart."
Description
Who knew a trio of snowmen could make such a joyful noise! Thanks to the Painter of Light™, you're about to ring in the season with these heart-melting Thomas Kinkade snowman ornaments in a set of three, available exclusively from The Bradford Exchange. Decked out in distinctive holiday outfits, three smiling roly-poly snowmen rest upon silvery metal jingle bells showcasing some of Thomas Kinkade's most beloved holiday artwork.
Meticulously handcrafted and hand-painted in vibrant holiday colors, the snowmen of these Thomas Kinkade snowman ornaments lend their joy to the season in a full 3 dimensions. Each one is donned with festive holiday accents from antique-era candles and Christmas bells to holly wreaths and colorful stockings. Plus, give any ornament a gentle shake and it really jingles. Don't miss the chance to own this nostalgic Thomas Kinkade Christmas decor that is sure to delight, Strong demand is always expected for these limited-edition Kinkade collectibles, so order now!
Features
These exclusive collectible Thomas Kinkade snowman ornaments from The Bradford Exchange features:
Nostalgic snowman ornaments in a set of three inspired by the beloved artistry of Thomas Kinkade, available only from The Bradford Exchange
Mr. Kinkade's famed holiday artwork is faithfully reproduced in full color on the shiny metallic jingle bells of each ornament
The snowmen at the top of these Thomas Kinkade snowman ornaments are meticulously handcrafted and hand-painted for exceptional quality and detail
Feature three-dimensional, smiling snowmen all dressed up in vintage holiday outfits and accented with distinctive accessories, including wreaths, bells, stockings and more
The bottom half of each ornament is a shiny metal jingle bell that actually jingles with just a gentle shake
Golden hanging cords are included for immediate display
Premiere issue in the Thomas Kinkade Snow-Bell Ornament Collection
Makes perfect Thomas Kinkade Christmas decor for your holiday home, or nostalgic Kinkade collectibles to cherish
Edition strictly limited to 120 casting days, so order now!
Certificate of Authenticity
Measure approximately 3-1/2" H; 9 cm H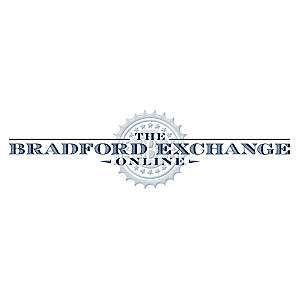 Buy This Item Now:

Thomas Kinkade "Snow-Bell Holidays" Ornament Set
Exclusive Collectible Thomas Kinkade Snowman Ornaments Bring a Seasonal Song of Joy to Your Holiday Home! Limited-Edition!
Price:

$39.99 US
s&s

$7.99 US
Item no:

108636001
Images ©1992-1996 Thomas Kinkade
©2009 The Bradford Exchange