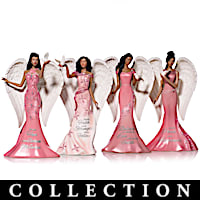 Keith Mallett Breast Cancer Awareness Angel Figurines
Breast Cancer Charity Figurines
Breast Cancer Charity Figurines Do So Much for So Many
At The Bradford Exchange Online, we're proud to join the fight against breast cancer by doing what we do best: creating heirloom-quality collectible breast cancer charity figurines, jewelry, apparel, music boxes and much more, all specially designed to not only help raise breast cancer awareness, but also to help you support this important cause. How do we do that? A portion of the proceeds from your purchase of these meaningful treasures is donated to help find a cure for breast cancer and to raise breast cancer awareness.
Raising Breast Cancer Awareness: Join Us In Fighting for This Important Cause
What better way to show someone just how much you care! Take one look at our remarkable selection of breast cancer awareness figurines, for example. You're sure to be impressed by your options; there really is something meaningful for everyone. Reach out to a special friend with our Precious Moments Hope Always Brings Sunny Weather Figurine, or let someone you care about know that they being watched over with one of our beautiful angel figurines.
For something girly and yet elegant, our Reflections of a Hopeful Shoe Figurine collection is a thoughtful gem, complete with dazzling genuine Swarovski crystals on each high-heeled breast cancer support figurine. Our glamorous lady figurines, each inspired by the visionary talents of artists like Thomas Kinkade, Lena Liu, Keith Mallett, and Dona Gelsinger, are certain to delight. And if a heartwarming bit of spirited sparkle is needed, look no further than artist Margaret Le Van's Pink Elephant or Dachshund Divas figurine collections - all created with the same goal in mind: to raise breast cancer awareness and to bring hope and uplift spirit.
So while you're enjoying our spectacular selection of Disney figurines, Thomas Kinkade figurines, Christmas figurines and so much more, keep an eye out for our pink breast cancer awareness figurines, and join us in taking a stand for this important cause. Shop Now!