Father's Day Gifts
2 items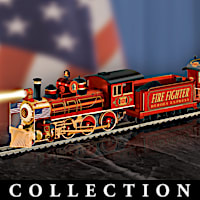 Firefighter Illuminated Electric Train With Glen Green Art
Father's Day Gifts for Firefighters Show Your Love and Pride
Every father is a hero. Every firefighter is a hero. So, what do you do if you need to find the perfect Father's Day gift for the dad who is also a firefighter? Shop here at The Bradford Exchange Online! We're delighted to bring you our amazing selection of unique Father's Day gifts, and we're proud to showcase a terrific selection of gifts for firefighters, which means this is your ultimate resource for Father's Day gifts for firefighters.
Give your firefighting father a truly personal tribute with our Brotherhood of Honor Personalized Ring and we'll engrave it for free with Dad's city, initials, the year and an engine number. Or show the special firefighter in your life how proud you are with the For My Firefighter Men's watch, loaded with high-quality features and boasting an engraved poem on the back, along with a special sentiment card. Dad's not really a jewelry kind of guy? No problem. Thrill him with the 1:18-Scale Ford Model T 1914 Fire Engine Diecast Truck, or our This Land Is Free Because of the Brave Personalized Box, complete with a stunning fully dimensional eagle and American flag sculpture on top and a custom engraved name or message of your choice.
No matter what Father's Day gift you choose, you can be confident it will be worthy of the firefighting dad in your life. And don't forget to take a look at all our firefighter collectibles and firefighter jewelry, not to mention our amazing selection of exclusive collectibles, fine jewelry, personalized gifts, apparel, home decor and so much more for every special person in your life. Your satisfaction is guaranteed. We can't wait to help you make this Father's Day, June 18, 2017, a day to remember, so don't wait! Shop Now!