These exciting treasures and more await you — but only if you call now!
Mankind's Greatest Achievement
Limited to Only 50 Sets!
Honoring the 50th anniversary of Apollo 11, this .999 pure gold coin set also includes a rare Apollo 11 artifact
A Coveted and Complete Mintmark Set
90% Silver
Includes a first-year Morgan Dollar from each of the five
mints where it was struck, including Carson City
Crowned in 1953 — Long May She Reign
Less Than 100 Remain
The first-ever coins and commemorative stamps of Queen Elizabeth's reign, issued for one year only in 1953
America's Most Beautiful Coin, Almost Lost Forever
90% Pure Gold
Nearly all of these legendary coins were lost in
government recalls and meltdowns in 1933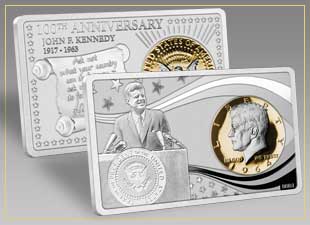 Here's What You Can Do
for Your Collection
Bradford Exchange Exclusive
In honor of the 100th anniversary of JFK's birth, this landmark tribute features a 1964 Kennedy Silver Half Dollar within a two Troy ounce bar minted in .999 fine silver
Inspired by the Crowned Jewel
Sovereign's Orb
Less Than 100 Remain!
The world's FIRST crown jewel coin celebrates the
longest reigning monarch, Queen Elizabeth II
A Historic Brand,
Reimagined
Less Than 50 Remain
Coveted, collected and cherished for over 270 years, Josiah Wedgewood's serene blue Jasperware inspires the world's FIRST-EVER Wedgewood legal tender coin