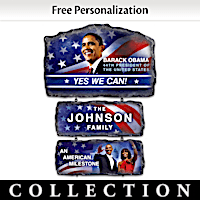 President Obama Welcome Sign Personalized With Your Name
African American Personalized Gifts
African American Personalized Gifts Custom Made to Show Your Love
There's no better way to let someone special know how much care than with a gift made just for them, and The Bradford Exchange Online is proud to help you make that happen. Our exciting selection of personalized gifts is matchless, showcasing original designs you won't find anywhere else. We're also known for our beautiful selection of African American gifts, each exquisitely designed and handcrafted with loving care. So if you are looking for African American personalized gifts, we're delighted to be of service.
Every person is unique, with his or her own interests and passions, and we're devoted to creating one-of-a-kind treasures that truly reflect what's special about the people you love most. From loving moms to football fans, we've created collectibles and gifts that can be personalized just for them. We even have designs for loving moms who are football fans, like our personalized baby's first Christmas NFL Ornaments. Whether Mom's a Cowboys fan, a Saints fan, or an Eagles fan, she's sure to enjoy being able to add Baby's name this precious portrait of a little one snuggled inside a favorite team helmet.
Rest assured, whether you're looking for the perfect African American personalized gift, African American dolls portraying our President and First Lady, inspirational figurines, heirloom-quality collector plates or lifelike African American baby dolls for the collector in your life, you can depend upon the very best from us, backed by our best-in-the-business guarantee. So don't wait to thrill someone special with a gift as unique as they are. Shop Now!